You don't have to live with the frustration of ongoing pain
Exceptional pain management with evidence-based methods that merge traditional and innovative medicine.
Don't be disheartened by your workplace injury or chronic back pain.
Whether you're looking to get back to work or get back to playing with your grandkids, we'll develop a personally-tailored care plan to restore your strength, mobility, and independence.
With over a decade of expertise working with Workers' Compensation claims, adjusters, and case managers, we advocate for your best interests — and your best health.
Your pain-free future awaits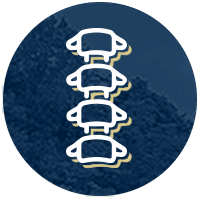 Spinal injury functional pain management
Manage your chronic back pain
Custom treatment plans that include traditional care
Carefully selected prescription medications and injections
Minimally invasive implants, neuromodulation and more
Full body functional pain management
Whole-body interventional pain management
Anti-aging, anti-inflammation and performance enhancement consultation
Nutrition impact, stress management, and sleep optimization guidance
Enjoy every part of your life
Increase your energy and reduce your pain
Scientific, evidence-based approach
Improve overall function through PRP and OrthoBiologic Services
Regain your energy, vitality, and confidence.
When your body pain begins to affect your life, you know it's time to take charge. Through allopathic and progressive medicinal treatments that include PRP and stem cell injections, we not only manage your pain, we help you feel more vibrant.
Get back to traveling the world, dancing with your friends, and living the life you choose.
Happy, Pain Free Patients
First, she actually cares about you, she wants you to have success, and she won't stop till you are happy. Dr. Boutwell is very experienced in her profession and dedicated to what she does. She's also more like family than a doctor. Very down to earth. She helps me by making me believe in myself and understanding that anything is possible and failure is not an option. I am so glad she is my doctor and you will be too. Recommendation 100 percent!
JIM COLYOTT
Ironton, MO
Hey Dr. Boutwell! Wow, It has been a long road since we became Dr/Patient in early 2017. I'm not sure where I would be today if not for you and your wonderful staff guiding me on that path. You are an INCREDIBLE doctor, but more importantly, a better person who always had a smile on your face! Thank you for being my doctor and hopefully my friend. Take care and God bless you!
DUANE BIVINS
East Carondelet, Illinois
Dr. Boutwell is a patient's dream to find. She is kind, patient, takes the time to make sure you understand everything she is saying, and answer any questions. Dr. Boutwell is continually educating herself and learning new procedures for the simple reason of helping her patients, not to display a bunch of certificates. She truly wants to help be a part of your journey of achieving a pain-free life. She has personally helped me after a car accident left me in constant pain and I am truly grateful to her.
JEN WALTON-HIBBETS
St. Louis, MO
When my husband first encountered Dr. Boutwell, we walked into her office "beat up" by surgeons and we both had a doubtful attitude she could help with the enormous pain from 3 major back surgeries. Our lives were in shambles. Pain destroys you and everyone around you. The moment she sat with us and listened to my husband's story, I knew at that moment angels walked among us... corny, right? But it'll be 3 years this September my husband has had continued pain relief With Dr. Boutwell... something I thought would never happen. I know she saved him... she saved us. She was the light at the end of a very dark tunnel.
ANNA VALPERGA-ENGLAND
Jackson, MO
We're dedicated to helping you achieve exceptional outcomes
Spearheaded by Kaylea Boutwell Lenarz, MD, a Fellowship-trained, Board-Certified, Cleveland Clinic Specialist, Katalyst utilizes several evidence-based methods that integrate traditional and innovative medicine to help you live a fulfilling and pain-free life.
Your pain should not define you. Our pain management experts are committed to guiding you to optimal health. Trusted by professional athletes and everyday people like you.
President of Missouri Society for Interventional Pain Physicians 2016-Present
Rising Star Award, American Society for Interventional Pain Physicians 2018
Board Member, American Society for Interventional Pain Physicians, 2015-Present
Multi-year St. Louis Magazine's Peer-Chosen "Top Docs"
Imagine a life free from pain
IT'S POSSIBLE WITH KATALYST